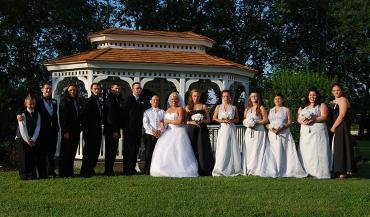 518 Entertainment is a well-known wedding DJ company in New York. We offer outstanding service and performance to give your family, friends, and most importantly, the bride and groom a night to remember. We have been performing at weddings in NY since 2009 and other locations before then for over 15 years. We have the experience and know-how to make your wedding reception a party of a lifetime.
Our DJs interact with your guest and keeps them entertained throughout the wedding reception. They are an expert in almost all music genres, which allow them to custom tailor the music to your guest listening preferences. Most importantly, our DJs are friendly, professional, and aim to make your wedding a success.
Here at 518 Entertainment, we understand that this is a special night. We carefully work with our clients to make sure every detail, from the bridal party entrance song to the last dance, is planned out. Each client is given a wedding reception DJ planning forms, and we spend the time to go over every detail.
Choosing the right DJ for your wedding could mean the difference between having a good wedding reception and having a great wedding reception. Do not be fooled with inexpensive DJs that have limited music selection, subpar MC'ing / hosting abilities, and poor music/lighting setups. We at 518 Entertainment have the industry standard in music equipment and lighting, outstanding hosts and MCs, and extensive music selection.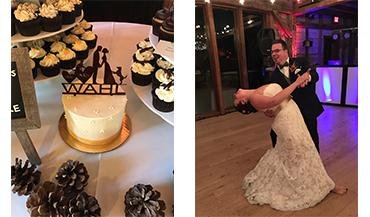 What's included in EVERY wedding package:
Sound system for any size event
1 DJ/MC (professionally dressed)
1-2 assistant DJ / MC (professionally dressed / if required for larger events)
Online planning tools, both Ceremony, Reception and Music
Choice of facade for professional appearance
Billboard Hits from Yesterday and Today
Unlimited face-to-face planning consultations
Help planning your Ceremony, Reception and full day time line
Work closely with other venders to ensure scheduled timeline is met (caterers, photographers, etc.)
Wireless microphone system for toast and more
Non-stop music played from the start to end of event (cocktail hour included)
Wedding Gallery
For more images please log in to your social media account and like our page.
Getting Married? Looking for a DJ?
Take a second to read this important information:
72% OF BRIDES WISH THEY SPENT MORE TIME CHOOSING THEIR RECEPTION ENTERTAINMENT.

ALMOST 100% SAID THEY WISH THEY HAD SPENT MORE ON THE WEDDING ENTERTAINMENT TO GET THE BETTER PEOPLE. INSTEAD, WEDDING DRESS, RECEPTION SITE AND CATERER WAS TOP OF THE PRIORITY LIST 4 MONTHS BEFORE THE WEDDING.

4 WEEKS AFTER THE WEDDING, 78% OF BRIDES SAY THEY WOULD HAVE MADE THE RECEPTION ENTERTAINMENT TOP OF THE PRIORITY LIST.

WHEN ASKED, 81% OF GUESTS SAY THE THING THEY REMEMBER MOST ABOUT A WEDDING RECEPTION WAS THE ENTERTAINMENT.

65% OF COUPLE WHO CHOSE A BAND FOR THEIR RECEPTION SAID THAT IF THEY COULD DO IT AGAIN, THEY WOULD DEFINITELY CHOOSE A DJ INSTEAD.
Source: Bride  & Groom Magazine