WEDDINGS
CEREMONIES & RECEPTIONS
Traditional or not so much?
You completely customize the music that suits who you two really are. Master of Ceremony skills, complete customization, awesome music choices, digital state-of-the-art sound systems, decorative atmosphere lighting, and a whole lot more.
School Events
School Dance, Halloween Dance, Valentines Day Dance, Track & Field Day, Talent Show, Junior Prom, Junior, Senior Ball, Junior-Senior Prom, Senior Ball, Fundraising Events, Elementary Schools, Middle Schools, High Schools.
Corporate Events
Convention, Corporate Party, Fundraising, Grand Opening, Grand Opening Event, Holiday, Karaoke Party, New Year's Eve, Outing, Picnic's, Promotion, Retirement, Sock Hop (50's & 60's), Staff Appreciation Day, Themed Party, Team Building Event
Social Events
Birthdays, Sweet 16's, Holiday, Themed, Block Party, Retro, Fund-raisers, Reunions, Graduation, New Years, Surprise, Karaoke Party, Bars, Clubs.
Karaoke Events
A Karaoke DJ is the type of entertainment that will thrill your guest, have them party all night & ensure that when they do leave, they will go home smiling and yelling for more..
DVD Photo Montages
We specialize in transforming your photos, video and keepsakes into a memorable DVD Photo Montage movie that will be cherished for a lifetime.
Lighting & Effects
Dance Floor Wash Lights, Dance Floor Effects, Laser lighting, Facade lighting, Room Up-Lighting.
Websites • Graphic Design
Single page website to a more elaborate several page website with images and registration & RSVP links.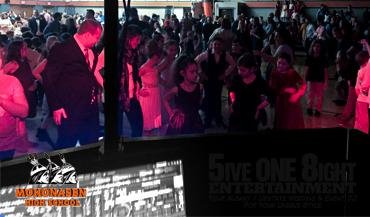 School Dance - Mohonasen / Pinewood Middle School
About
We want to create a genuine friendship with each client, bride and groom who hires us to DJ/MC their special event & wedding reception. Once we're booked as your DJ / Entertainer we will be at your service 24/7, throughout the entire planning process. As your DJ / Event Coordinator, we will not only DJ your event, but we will help coordinate all of the formalities of your event. We take the work out of your hands and put it into our own. You can relax and enjoy the most important day of your lives, knowing that we will take care of all the needs to be attended to in a professional and timely manner. From the time the first guest arrives at your event, until the last dance of the evening, working together as a "TEAM" with your photographer, videographer and banquet manager.
Services
We provide Albany / Upstate NY with the finest disc jockeys, party dancers, and masters of ceremony. From wedding receptions to school dances and from anniversary parties to corporate and team building. 518 Entertainment is your source for entertainment.
Contact Us: (518) 243-8335
Monday-Friday: 9am-3pm
Saturday: 9am – 12pm
Sunday: Closed
Here are just a few we have worked with . . .